Agua Caliente Casino
(866) 858-3600.
www.hotwatercasino.com.
32-250 Bob Hope Drive,
Rancho Mirage.
Kenny Loggins: July 7.
Village People: July 14.
The Ultimate Queen Celebration, Starring Marc Martel: July 21.
Donny & Marie: July 27.
Park Kang-Sung, Chu Ga-Yeoul & Kum Jan Di: July 28.
Hotel California: July 29.
Brad Paisley: Aug. 2.
Cheech & Chong: Aug. 4.
Art Depot Gallery
In the Helen Putnam Historical Plaza, in downtown Fontana. Visual arts programs, gallery exhibits and events. 16822 Spring St.,
(909) 349-6900. arts.fontana.org.
Cal State University San Bernardino Robert and Frances Fullerton Museum of Art
A nationally recognized museum accredited by the American Alliance of Museums. General admission to the museum is free. Suggested donation is $3. Parking at Cal State San Bernardino is $6 per vehicle and $3 on weekends. The museum is open Monday – Wednesday and Saturday 10am-5pm, Thursday noon – 8pm and closed Friday and Sunday. For more information, call (909) 537-7373 or visit the RAFFMA website at raffma.csusb.edu.
Candlelight Pavilion
455 West Foothill Boulevard, Claremont.
(909) 626-1254 ext.1. candlelightpavilion.com.
Legally Blonde: Through July 14.
Chino Community Theatre
Performances held at the Seventh Street Community Theater, 13123 7th Street, in Chino. Tickets are available through the box office at
(909) 590-1149 or online at
www.chinocommunitytheatre.org.
Fractured Fairy Tales - Summer Theatre Camp: July 9-20.
Rebel Without A Cause: July 12-15.
Legally Blonde: Aug. 3-18.
Citizens Business Bank Arena
4000 E. Ontario Center Parkway, Ontario. www.cbbankarena.com.
Banda MS With Christian Nodal: July 27-29.
I Love the 90's Tour: Aug. 10.
Coachella Valley Repertory Theatre
The CVRep Theatre is located in the Atrium 69-930 Highway 111 in Rancho Mirage. To order tickets or for more information, call
(760) 296-2966 or visit cvrep.org.
A Tapestry Through Music with Leslie Page: July 7-8.
TEREZA STANISLAV, violin, STEVEN VANHAUWAERT, piano: July 12.
Carneymagic: July 13-15.
This is a blank page: July 20-22.
Palm Springs Gay Men's Chorus: July 29.
Blank: Aug. 3-5.
MICHELLE FIORE, SOPRANO, KURT JORDAN, PIANIST: Aug 7.
Fallbrook Art Center
Sculpture, painting, printmaking, wildlife, glass, ceramic, and photography fine art shows.
103 S. Main St., Fallbrook.
(760) 728-1414.
Fantasy Springs Resort Casino
For tickets and information, call
(760) 342-5000, (800) 827-2946 or visit fantasyspringsresort.com.
Michael McDonald: July 7.
Counting Crows: July 13.
Pitbull: July 21.
Jason Bonham's Led Zeppelin Evening: Aug. 3.
Vice Versa: July 6, 7.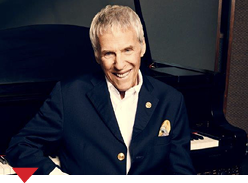 Fontana Arts Festival
The 10th Annual Fontana Arts Festival, July 28. This vibrant and entertaining festival promotes, expresses, and celebrates the abundant creativity in Fontana. At Fontana Park, 15556 Summit Ave., 5pm to 10pm. See article on page 15.
Fontana Community Senior Center art gallery
The art gallery is located on the Center's upper level in the Library and Art Gallery Corridor, 16710 Ceres Ave., in Fontana.
(909) 349-6975. arts.fontana.org.
Fox Performing Arts Center
In Downtown Riverside,
3801 Mission Inn Ave. Tickets are available at the Fox Box Office, LiveNation.com, ticketmaster.com, or charge by phone at
(951) 779-9800. For information,
visit venue.riversidepac.com.
Anthony Jeselnik - Funny Games: July 6.
Toots and the Maytals - Live in Concert: July 7.
Viva Los Jokes: July 10.
Chris Isaak: July 15.
Tomi Lahren's Family, Freedom, and Final Thoughts Tour: July 21.
Mocedades - Por Amor A Mexico: July 28.
Chuponcito - USA Tour 2018: Aug. 4.
American Idol Live! 2018: Aug. 5.
Historic Hemet Theatre
www.HistoricHemetTheatre.com. Ticket office Monday through Friday, 11am to 6pm. (951) 658-5950. 216 E. Florida Ave., Hemet.
WhoDunIt: July 5.
Tribute To Chicago with Kenny Cetera's Chicago Experience: July 7.
Tribute to the Bee Gees with Bee Gees Gold: July 14.
Tribute to the Eagles featuring Desperado: Aug. 4.
Lewis Family Playhouse
12505 Cultural Center Dr., Rancho Cucamonga. Tickets available at lewisfamilyplayhouse.com,
(909) 477-2752.
Seussical: July 14-22. See article on page 19.
Broadway Camp Performance: July 19.
13th Season: See a rundown of the Playhouse's upcoming 13th season. See article on page 12.
Morongo Casino
(800) 252-4499.
morongocasinoresort.com.
49750 Seminole Dr., Cabazon.
Nguoi Tinh Bolero: July 7.
Kim Yonja: July 22.
The Gipsy Kings Featuring Nicolas Reyes And Tonino Baliardo: Aug. 2.
Ana Barbara: Aug. 10.
Pageant of the Masters
This world-famous theatrical celebration of great art recreated in tableaux vivants will be celebrating the 85th anniversary of "living pictures" presented as part of Laguna Beach's Festival of Arts. See article on page 16.
Old Town Temecula Community Theater
42051 Main St., Temecula.
(866) 653-8696.
www.temeculatheater.com.
Jazz at the Merc: Every Thursday, 7:30pm.
Comedy at the Merc: 2nd Friday and last Saturday of the month, 8pm.
Classics at the Merc: 2nd and 4th Sundays of the month, 3pm.
Cabaret at the Merc: Last Sunday of each month, 7pm.
Dixieland at the Merc: Every third Sunday of the month.
Speakeasy at the merc: Every 2nd Saturday, 7pm.
Country Live! at the Merc: Every 1st and 3rd Saturday, 7pm.
Bye Bye Birdie 2018: July 1.
Mrs. Jones' Revenge 2018: July 6.
The Compleat Works of William Shakespeare (Abridged): July 12-15, 19-22, 26-28.
Cinderella Ballet 2018: July 13-14.
The Pirates of Penzance Jr.: July 15.
Dancexchange: July 17.
The Pirates of Penzance: July 20-22, 26-29, Aug. 3-5.
Richard II: Aug. 9-12, 16-19, 23-25.
Praise Him With Dancing: Aug. 10-11.
Pechanga Resort & Casino
(951) 693-1819.
pechanga.com.
45000 Pala Road, Temecula.
Box Office (951) 303-2507.
Cirque Dreams: July 1.
Terry Fator: July 6.
26th Year Anniversary of Saigon Entertainment: July 14.
Pitbull: July 20.
It's Showtime: July 27.
Joe Rogan Strange Times 2018 Tour: July 28.
Donny & Marie Osmond: July 29.
Riverside Art Museum
3425 Mission Inn Ave., Riverside.
(951) 684-7111. riversideartmuseum.org.
Riverside Community Players
4026 14th St., in Riverside.
(951) 686-4030.
riversidecommunityplayers.com.
Neil Simon's The Dinner Party: July 13-29.
Riverside Municipal Auditorium
3485 Mission Inn Ave., Riverside.
(951) 779-9800.
venue.riversiderma.com.
Drake Party: July 7.
Gasolina Party: July 14.
RB Music Presents Los Perdidos de Sinaloa & Fidel Rueda: July 20.
WWE Presents NXT Live!: July 27.
San Bernardino Symphony
Historic California Theatre of the Performing Arts, 562 W. 4th Street, San Bernardino.
(909) 381-5388.
Season Extra Benefit Concert: July 14.
Spotlight 29 Casino
46-200 Harrison Place, Coachella.
www.spotlight29.com.
(800) 585-3737 or (760) 775-5566.
Bronco: July 14.
The Selena Experience: July 28.
Gran Baile Con Los Alegres Del Barranco Y Hijos De Barron: Aug. 4.
TIBBIES Center Stage Theater
8463 Sierra Ave., Fontana.
(909) 429-7469.
centerstagefontana.com.
Annie the Musical: July 13-22 on Friday, Saturday, and Sunday for seven perfomances. Tickets are $25 for show only, and $49.95 for dinner and show. A production of Inland Valley Repertory Theatre.
Oasis Dance Magic: Aug. 3-5.
Noches con ritmo: Thursday nights. Salsa lessons 7pm, open dance 8pm. Dancing, live entertainment, appetizers. $5 before 9pm, $7 after 9pm. 18+ event. 7pm - Midnight.