Agua Caliente Casino
(866) 858-3600.
www.hotwatercasino.com.
32-250 Bob Hope Drive,
Rancho Mirage.
Thunder From Down Under: Feb. 9.
Art Laboe: Feb. 14.
Bronco & Conjunto Primvera: Feb. 15.
Air Supply: Feb. 16.
Toni Braxton: March 1.
Jerry Seinfeld: March 2.
Vache Amaryan, Tatev Asatryan & Gevorg Mastirosyan: March 9.
Annenberg Theater
Box Office: (760) 325-4490.
www.psmuseum.org
101 Museum Drive, Palm Springs.
Coyote Stageworks - Honky Tonk Laundry: Feb. 1-10.
Cabaret 88 starring carolee Carmello: Feb. 11-13.
After the ball - Christine Ebersole: Feb. 23.
Art Depot Gallery
In the Helen Putnam Historical Plaza, in downtown Fontana. Visual arts programs, gallery exhibits and events. 16822 Spring St., (909) 349-6900. arts.fontana.org.
Bridges Auditorium
Pomona College, 450 North College Way, Claremont. www.pomona.edu/administration/bridges-auditorium.
Varsity Vocals Presents ICCA West Quarterfinal 2019: Feb. 2.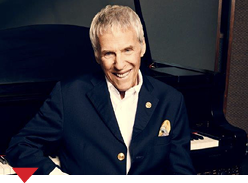 Broadway In The Park
Feb. 10 at the Harveston Amphitheater in Temecula, a free live concert. See article on page 22.
Cal Baptist University theatre
At the Wallace Theatre on the Cal Baptist campus in Riverside,
www.calbaptist.edu/theatre. Box office: (951) 343-4319.
Pride and Prejudice: Feb. 15-23.
Cal State University San Bernardino Robert and Frances Fullerton Museum of Art
A nationally recognized museum accredited by the American Alliance of Museums. General admission is free. Suggested donation is $3. Parking at CSUSB is $6 per vehicle and $3 on weekends. The museum is open Monday – Wednesday and Saturday 10am-5pm, Thursday noon – 8pm and closed Friday and Sunday. For more information, call (909) 537-7373 or visit the RAFFMA website at raffma.csusb.edu.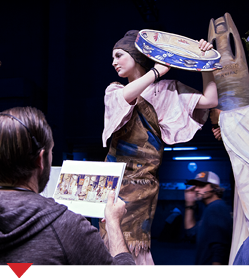 California State University San Bernardino department of theatre arts
(909) 537-5884. theatre.csusb.edu.
New Student Play Showcase: Feb. 7-10.
Picnic: March 8-17. See article on page 14.
Candlelight Pavilion
455 West Foothill Boulevard, Claremont. (909) 626-1254 ext.1. candlelightpavilion.com.
Titanic, The Musical: Through Feb. 23.
No, No, Nanette: March 1- April 13.
Chino Community Theatre
Performances held at the Seventh Street Community Theater, 13123 7th Street, in Chino. Tickets are available through the box office at
(909) 590-1149 or online at
www.chinocommunitytheatre.org.
Born Yesterday: Through Feb. 2.
Matilda: March 8-30.
Citizens Business Bank Arena
4000 E. Ontario Center Parkway, Ontario. www.cbbankarena.com.
La Caravana Del Amor - Los Tucanes De Tijuana: Feb. 9.
Dierks Bentley: Feb. 14.
PJ Masks Save The Day Live!: Feb. 25.
The Roadshow: March 8.
Coachella Valley Repertory Theatre
The CVRep Theatre is located in the Atrium 69-930 Highway 111 in Rancho Mirage. To order tickets or for more information, call
(760) 296-2966 or visit cvrep.org.
White: Through Feb. 17.
Fallbrook Art Center
Sculpture, painting, printmaking, wildlife, glass, ceramic, and photography fine art shows.
103 S. Main St., Fallbrook.
(760) 728-1414.
Fantasy Springs Resort Casino
For tickets and information, call
(760) 342-5000, (800) 827-2946 or visit fantasyspringsresort.com.
The Beach Boys: Feb. 1.
Marie & The Osmonds: Feb. 2.
Ben Gleib at the improv: Feb. 1-2.
Boyz II Men: Feb. 8.
Vince Morris at the Improv: Feb. 8-9.
The Righteous Brothers: Feb. 15.
Snoop Dogg: Feb. 16.
Pitbull: Feb. 23.
Michael McDonald: March 1.
Frankie Valli: March 2.
Terry Fator: March 8.
Julio Iglesias: March 9.
Fontana Community Senior Center art gallery
The art gallery is located on the Center's upper level in the Library and Art Gallery Corridor, 16710 Ceres Ave., in Fontana.
(909) 349-6975. arts.fontana.org.
Fox Performing Arts Center
In Downtown Riverside,
3801 Mission Inn Ave. Tickets are available at the Fox Box Office, LiveNation.com, ticketmaster.com, or charge by phone at
(951) 779-9800. For information,
visit venue.riversidepac.com.
A Oscuras Me Da Risa: Feb. 9.
Kinky Boots: Feb. 12-13.
Chiquis Rivera: Feb. 14.
Brian Regan: Feb. 15.
The Essence of Whitney: Feb. 16.
Easton Corbin: Feb. 21.
A Red Carpet Evening At The Fox: Feb. 24.
Chippendales - Let's Misbehave 2019 Tour: March 2.
Ruben Sings Luther: March 3.
Evita: March 4-5.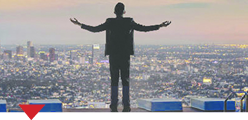 HISTORIC HEMET THEATRE
www.HistoricHemetTheatre.com.
Ticket Office Monday through Friday, 11am to 6pm. (951) 658-5950.
216 E Florida Ave, Hemet. See article on page 23.
Tribute to Marvin Gaye: Feb. 9.
The Glen Campbell Story: Feb. 23.
The Music of John Denver starring Jim Curry: March 9.
Honda Center
2695 E. Katella Ave., Anaheim. www.hondacenter.com.
Kiss: Feb. 12.
Panic! At the disco: Feb. 14.
Valentine's Super Love Jam: Feb. 16.
Justin Timberlake: Feb. 22.
Sarah Brightman: March 2.
Lewis Family Playhouse
12505 Cultural Center Dr., Rancho Cucamonga. Tickets available at lewisfamilyplayhouse.com,
(909) 477-2752.
The Hunchback of Notre Dame: Feb. 15-24. Broadway at the Gardens presents The Hunchback of Notre Dame, based on Victor
Hugo's gothic novel set in 15th century Paris about the mysterious bell-ringer of Notre Dame
Cathedral, Quasimodo, and the fiery beautiful Gypsy, Esméralda. The production includes
songs from the Academy Award-nominated Disney animated feature as well as new songs
by Alan Menken and Stephan Schwartz. Peter Parnell's new book embraces story theatre
and features verbatim passages from Hugo's original novel. A sweeping score and powerful
story make The Hunchback of Notre Dame a timeless classic. See article on page 16.
Mariachi Flor de Toloache: March 2.
The Snow Day & Other Books by Ezra Jack Keats: March 9.
One More Time: March 10.
McCallum Theatre
www.mccallumtheatre.com.
(760) 340-2787.
Paul Anka: Jan. 31-Feb. 1.
Jay Leno: Feb. 2.
Joshua Bell, Violin: Feb. 4.
Swan Lake: Feb. 5.
Steve Solomon's My Mother's Italian, My Father's Jewish & I'm in Therapy: Feb. 6-7.
Rent 20th Anniversary Tour: Feb. 8-10.
Keyboard Conversations With Jeffrey Siegel: Feb. 11.
Murphy's Celtic Legacy: Feb. 13.
Linda Eder: Feb. 14.
Michael Feinstein: Feb. 15-16.
It's Magic!: Feb. 17.
National Geographic Live: Feb. 18.
Living Tributes to Dolly Parton, Kenny Rogers, Cher, and Neil Diamond: Feb. 19-20.
John Mueller's Winter Dance Party: Feb. 21.
Catskills on Broadway: Feb. 22.
Keiko Matsui: Feb. 23.
The Lettermen: Feb. 24.
Steel Magnolias: Feb. 25.
Evita: Feb. 27-28.
Stomp: March 1-2.
Legends of Folk: March 3.
Pablo Såinz Villegas: March 4.
Neil Berg's Fifty Years of rock and roll: March 5-6.
Rhapsody in Blue: March 7.
The Irish Rovers: Mach 8.
Steve Tyrell: March 9.
Morongo Casino
(800) 252-4499.
morongocasinoresort.com.
49750 Seminole Dr., Cabazon.
Choi Jin Hee: Feb. 9.
Drum Room Valentine's Dinner: Feb. 14.
Engelbert Humperdinck: Feb. 15.
Old Town Temecula Community Theater
42051 Main St., Temecula.
(866) 653-8696.
www.temeculatheater.com.
Jazz at the Merc: Every Thursday, 7:30pm.
Comedy at the Merc: 2nd Friday and last Saturday of the month, 8pm.
Classics at the Merc: 2nd and 4th Sundays of the month, 3pm.
Cabaret at the Merc: Last Sunday of each month, 7pm.
Dixieland at the Merc: Every third Sunday of the month.
Speakeasy at the merc: Every 2nd Saturday, 7pm.
Country Live! at the Merc: Every 1st and 3rd Saturday, 7pm.
The Abba Show: Feb. 1.
Love: Feb. 2.
M.A.S.H.: Feb. 7-10, 14-17.
Magic at the Merc: Feb. 10.
Dancexchange: Feb. 19.
Versa-Style dance company: Feb. 23. See article on page 30.
The Alley Cats Doo-wop music and comedy show: March 1.
Ticket to ride- a live tribute to the beatles: March 2.
Sing, Swing, and sizzle! A slute to swing starring the satin dollz: March 3.
Shawn & Lehua: March 6.
DSB - Journey Tribute: March 7.
Petty and the Heartshakers - Tom Petty Tribute: March 8.
Rockin' the legends show: March 9.
8th Annual Jazz Festival: March 10.
Pechanga Resort & Casino
(951) 693-1819.
pechanga.com.
45000 Pala Road, Temecula.
Box Office (951) 303-2507.
Lucky Lion Dancers: Feb. 2.
A Bowie Celebration: Feb. 8.
Wynonna: Feb. 15.
Heart & Soul: Feb. 22.
Cinderella Ballet: March 1-2.
Gladys Knight: March 3.
Live Show Nhac Tre: March 9.
Raincross Master Chorale
Evensong: Feb. 24 at the First Congregational Church at 3504 Mission Inn Ave. Part of the 2019 Riverside Dickens Festival. See article on page 15.
Redlands Symphony
(909) 587-5565
redlandssymphony.com.
The Magic of Mozart: Feb. 2.
The Romance of Schumann: March 2.
Riverside Art Museum
3425 Mission Inn Ave., Riverside.
Riverside Community Players
4026 14th St., in Riverside.
(951) 686-4030.
riversidecommunityplayers.com.
Silent Sky: Through Feb. 10. See article on page 21.
Pixies, Kings & Magical Things: Four tales by Hans Christian Anderson, a comedy by Ric Averill. March 1-3.
Riverside Municipal Auditorium
3485 Mission Inn Ave., Riverside.
(951) 779-9800.
venue.riversiderma.com.
Badfish - A Tribute To Sublime: Feb. 1.
No Brakes Entertainment Presents Roddy Ricch & More: Feb. 9.
Fant-A-Shes: Feb. 16.
Una Noche Romantica con Ramon Ayala, Tiranos Del Norte y DJ Malechin: Feb. 22-23.
San Bernardino Symphony
Historic California Theatre of the Performing Arts, 562 W. 4th Street, San Bernardino.
(909) 381-5388.
A night at the pictures: Feb. 9.
Spotlight 29 Casino
46-200 Harrison Place, Coachella.
www.spotlight29.com.
(800) 585-3737 or (760) 775-5566.
Fortunate Son: Feb. 1.
Felipe Esparza: Feb. 2.
House of Floyd: Feb. 8.
Pancho Barraza: Feb. 9.
Don't Stop Believin': Feb. 15.
A Oscuras Me Da Risa: Feb. 16.
Latin Ladies: Feb. 22.
Desperado: March 1.
Danny Vernon: March 8.
Temecula Valley Symphony
Most of Temecula Valley Symphony's concerts are held in the Golden Bears Theater, on the campus of Temecula Valley High School. (951) 587-1536.
www.TemeculaValleySymphony.org.
Hearts Ablaze: Feb. 16, pairing the Temecula Valley Symphony and Symphony Chorus. See article on page 21.
Carnival of Music: March 10.
Triumph And Destiny: March 30. See article on page 21.
TIBBIES Center Stage Theater
8463 Sierra Ave., Fontana.
(909) 429-7469.
centerstagefontana.com.
Noches con ritmo: Thursday nights. Salsa lessons 7pm, open dance 8pm. Dancing, live entertainment, appetizers. $5 before 9pm, $7 after 9pm. 18+ event. 7pm - Midnight.
The Wiz: Through March 3.
University of California, Riverside, Department of Theatre
900 University Ave. in Riverside. For schedules and more information, go online to theatre.ucr.edu.
Smartphone Film Festival: Feb. 4.
Waring International Piano Competition
Classical Music Public Performances: March 30 at the Indian Wells Theatre and April 1 at the McCallum Theater. See article on page 22.
International Piano Competition: March 24-April 1. See article on page 22.