Agua Caliente Resort Casino Rancho Mirage
(866) 858-3600.
www.hotwatercasino.com.
32-250 Bob Hope Drive,
Rancho Mirage.
Christian Nodal - Ahora Tour 2019: June 7.
Art Laboe's Summer Love Jam VIII: June 15.
Steve Augeri: June 22.
Hunks: June 28.
Ronald Cheng: June 29.
Harout Balyan: July 6.
Hotel California: A Salute to the Eagles: July 13.
Agua Caliente Casino Palm Springs
(888) 999-1995.
www.sparesortcasino.com.
401 East Amado Rd., Palm Springs.
Annenberg Theater
Box Office: (760) 325-4490.
www.psmuseum.org
101 Museum Drive, Palm Springs.
Dance With Miss Lindsay - June Series: June 1-2.
Persimmon Bistro Cocktail Party: June 6.
Summer Film Series: Word is out: June 27.
Summer film series: putney swope: July 11.
Friends! the musical parody: July 12-14.
Art Depot Gallery
In the Helen Putnam Historical Plaza, in downtown Fontana. Visual arts programs, gallery exhibits and events. 16822 Spring St., (909) 349-6900. arts.fontana.org.
Bridges Auditorium
Pomona College, 450 North College Way, Claremont. www.pomona.edu/administration/bridges-auditorium.
Inland Pacific Ballet Academy Presents: Recital of Swan Lake: June 8.
Cal Baptist University theatre
At the Wallace Theatre on the Cal Baptist campus in Riverside,
www.calbaptist.edu/theatre. Box office: (951) 343-4319.
Hamlet: June 7-21.
Rosencrantz and Guildenstern are Dead:
June 8-22.
Cal State University San Bernardino Robert and Frances Fullerton Museum of Art
A nationally recognized museum accredited by the American Alliance of Museums. General admission is free. Suggested donation is $3. Parking at CSUSB is $6 per vehicle and $3 on weekends. The museum is open Monday – Wednesday and Saturday 10am-5pm, Thursday noon – 8pm and closed Friday and Sunday. For more information, call (909) 537-7373 or visit the RAFFMA website at raffma.csusb.edu.
California State University San Bernardino department of theatre arts
(909) 537-5884. theatre.csusb.edu.
In The Heights: Through June 9.
Candlelight Pavilion
455 West Foothill Boulevard, Claremont. (909) 626-1254 ext.1. candlelightpavilion.com.
Always ... Patsy Cline: Through June 30.
Peter Pan: July 12 - Aug. 17.
Chino Community Theatre
Performances held at the Seventh Street Community Theater, 13123 7th Street, in Chino. Tickets are available through the box office at
(909) 590-1149 or online at
www.chinocommunitytheatre.org.
The Complete History of America (Abridged): June 2, 8.
Baby with the bathwater: June 1, 6, 8.
It's Only a play: June 1, 7, 9.
Citizens Business Bank Arena
4000 E. Ontario Center Parkway, Ontario. www.cbbankarena.com.
Spirit West Coast: June 8.
Hillsong United The People Tour: June 10.
Anuel AA, Real Hasta La Muerte Part 2: June 21.
Judas Priest: June 28.
Coachella Valley Repertory Theatre
The CVRep Theatre is located in the Atrium 69-930 Highway 111 in Rancho Mirage. To order tickets or for more information, call
(760) 296-2966 or visit cvrep.org.
Scott Wilkie Band: June 24.
Angela Wolcott "Grit & Grace": June 29.
Tales from the Twilight Cafe: June 30.
Fallbrook Art Center
Sculpture, painting, printmaking, wildlife, glass, ceramic, and photography fine art shows.
103 S. Main St., Fallbrook.
(760) 728-1414.
Fantasy Springs Resort Casino
For tickets and information, call
(760) 342-5000, (800) 827-2946 or visit fantasyspringsresort.com.
Hubert Wu and Jinny Ng:
June 15.
Ailee: June 22.
Jethro Tull: July 5.
Don Mclean: July 13.
Fontana Community Senior Center art gallery
The art gallery is located on the Center's upper level in the Library and Art Gallery Corridor, 16710 Ceres Ave., in Fontana.
(909) 349-6975. arts.fontana.org.
Fox Performing Arts Center
In Downtown Riverside,
3801 Mission Inn Ave. Tickets are available at the Fox Box Office, LiveNation.com, ticketmaster.com, or charge by phone at
(951) 779-9800. For information,
visit venue.riversidepac.com.
Rent: June 12.
Bohemian Rhapsody Sing-A-Long: June 14.
Mario Aguilar: June 21.
Aziz Ansari: June 23.
Jose Maria Napoleon: June 28.
Brit Floyd World Tour 2019 The Worlds Greatest Pink Floyd Show: July 2.
An Evening with Lyle Lovett and His Large Band: July 5.
HISTORIC HEMET THEATRE
www.HistoricHemetTheatre.com.
Ticket Office Monday through Friday, 11am to 6pm. (951) 658-5950.
216 E Florida Ave, Hemet.
TRIBUTE TO BOB SEGER: June 8.
TRIBUTE TO JOHNNY CASH:
June 14.
TRIBUTE TO SANTANA: June 22.
TRIBUTE TO LED ZEPPELIN: July 6.
Honda Center
2695 E. Katella Ave., Anaheim. www.hondacenter.com.
Jeff Lynne's ELO Live 2019: June 20.
Impractical Jokers: June 22.
Lake Elsinore Casino
20930 Malaga Rd., Lake Elsinore. (951) 674-3101. lercasino.com. See article on page 8.
Twisted Gypsy: June 22.
Stairway to Zeppelin: June 29.
PHT Country, Patrick Howard Trampus Band: July 13.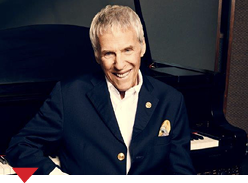 Lewis Family Playhouse
12505 Cultural Center Dr., Rancho Cucamonga. Tickets available at lewisfamilyplayhouse.com,
(909) 477-2752.
Herb Alpert & Lani Hall: June 1.
Alta Loma Dance Academy: June 7-8.
Burt Bacharach: June 14. See article on page 16.
Bye Bye Birdie: July 13-21.
McCallum Theatre
www.mccallumtheatre.com.
(760) 340-2787.
Shakespeare in Jazz: All The World's A Song: June 12.
Somos Amigos: Songs on Common Ground: June 14.
The Planets: June 18.
Morongo Casino
(800) 252-4499.
morongocasinoresort.com.
49750 Seminole Dr., Cabazon.
Bumping Mics: Jeff Ross & Dave Attell: June 14.
Bumping Mics: Jeff Ross & Dave Attell: June 14.
Australia's Thunder From Down Under: June 28-29.
A Live Summer Tour Featuring Owen Cheung & Fung Ning: June 30.
Lee Greenwood: July 6.
Los Lonely Boys: July 12.
Old Town Temecula Community Theater
42051 Main St., Temecula.
(866) 653-8696.
www.temeculatheater.com.
Jazz at the Merc: Every Thursday, 7:30pm.
Comedy at the Merc: 2nd Friday and last Saturday of the month, 8pm.
Classics at the Merc: 2nd and 4th Sundays of the month, 3pm.
Cabaret at the Merc: Last Sunday of each month, 7pm.
Dixieland at the Merc: Every third Sunday of the month.
Speakeasy at the merc: Every 2nd Saturday, 7pm.
Country Live! at the Merc: Every 1st and 3rd Saturday, 7pm.
Jacob Jonas the company: June 1.
Shakespeare in the vines: Sense & Sensibility: June 6-9, 13-16, 20-22.
Hairspray: June 6-9, 13-16, 20-23.
20th Century Legends of Las Vegas Live: June 12.
Magic at the Merc: June 16.
DanceXchange: June 18.
Shakespeare in the vines: Measure for Measure: July 11-14, 18-21, 25-27.
Pageant of the Masters - The Time Machine
Nightly performances of tableaux vivants ("living pictures") from July 7 to August 31 in Laguna Beach. See article on page 12.
Pechanga Resort & Casino
(951) 693-1819.
pechanga.com.
45000 Pala Road, Temecula.
Box Office (951) 303-2507.
The Commodores: June 1.
Adrian Uribe: June 14.
Newsies: June 22-23.
Redlands Symphony
(909) 587-5565
redlandssymphony.com.
Gala 2019 - Starry Starry Night: June 1.
Broadway and Beyond: June 21.
Riverside Art Museum
3425 Mission Inn Ave., Riverside.
(951) 684-7111. riversideartmuseum.org.
Riverside Community Players
4026 14th St., in Riverside.
(951) 686-4030.
riversidecommunityplayers.com.
Tartuffe: Through June 9. See article on page 19.
Dial M For Murder: July 12-28.
Riverside Municipal Auditorium
3485 Mission Inn Ave., Riverside.
(951) 779-9800.
venue.riversiderma.com.
Decades Collide 80s vs 90s Party with DJ Biz Markie: June 7.
The Upside Get Down - An 80s Nerd party: June 8.
FleaEsta - Vintage Flea Market Fiesta: June 9.
Intocable - Percepcion Tour 2019: June 13.
Legends of hard rock with Maiden USA: June 14.
Appetite 4 Destruction: June 15.
Licensed to Ill - Beastie Boys Tribute Night: June 21.
Bone Thugs-N-Harmony: June 22.
Cash'd Out (Johnny Cash Tribute Band): July 5.
Spotlight 29 Casino
46-200 Harrison Place, Coachella. www.spotlight29.com.
(800) 585-3737 or
(760) 775-5566.
Gran Conjuntazo: June 1.
Como La flor, A Tribute to selena: June 7.
Abbafab, A tribute to abba: June 14.
Corazon de mana, a tribute to mana: June 21.
Paperback writer, a tribute to the beatles: June 28.
Summer Rap Jam: June 29.
Wannabe, a tribute to spice girls: July 5.
Randy Linder, a tribute to creedence clearwater revival: July 12.
La Septima Banda: July 13.
TIBBIES Center Stage Theater
8463 Sierra Ave., Fontana.
(909) 429-7469.
centerstagefontana.com.
Noches con ritmo: Thursday nights. Salsa lessons 7pm, open dance 8pm. Dancing, live entertainment, appetizers. $5 before 9pm, $7 after 9pm. 18+ event. 7pm - Midnight.
Rockin' The Keys - The music of icons: Through June 16.
2019/2020 Season: The new season of shows has been announced. See article on page 17.
University of California, Riverside, Department of Theatre
900 University Ave. in Riverside. For schedules and more information, go online to theatre.ucr.edu.
NEW PLAY FESTIVAL 2019 by UCR MFA Playwrights: June 1.
PLAYWORKS 2019 by UCR Undergraduate and MFA Playwrights: June 5-7.
CULMINATION CELEBRATION: June 14.